Motor Air Compressor Oil Free (SAD / SMAD / SWD Series)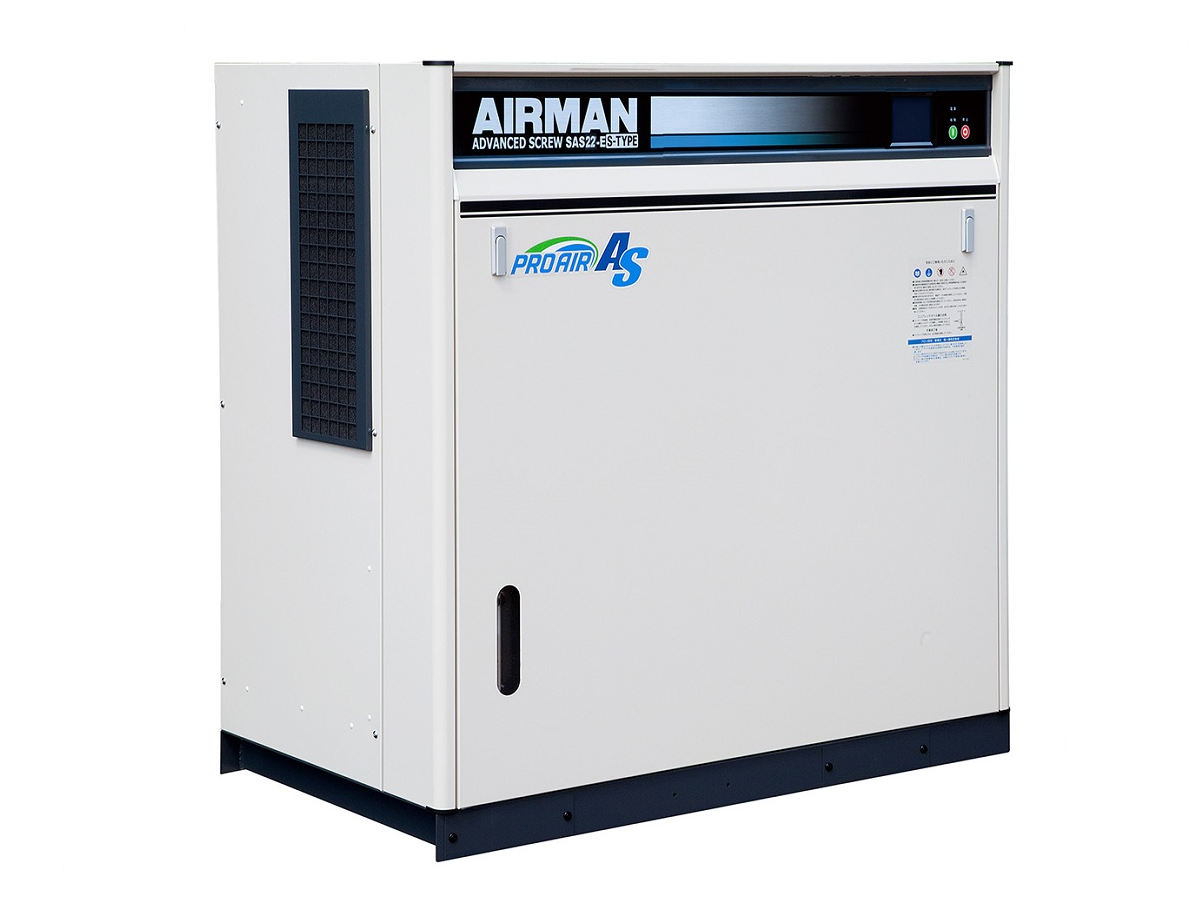 Motor Air Compressor
AIRMAN motor air compressor has more than 50 years of experience with Japanese customers.
In most industrial companies, energy cost savings are important.
Our advanced energy saving system can improve your cost issues, especially SMS series (Outdoor type) can be installed on outside of buildings, meaning that you do not need to prepare a compressor room inside buildings.
PRODUCT SPECIFICATION
-Outdoor Air Cooled (SMAD Series)-
| | Product | Type | Air Delivery (m3/min) | Discharge pressure (MPa) | Overall width (mm) | Overall depth (mm) | Overall height (mm) | Weight (kg) |
| --- | --- | --- | --- | --- | --- | --- | --- | --- |
| | Product | Type | Air Delivery (m3/min) | Discharge pressure (MPa) | Overall width (mm) | Overall depth (mm) | Overall height (mm) | Weight (kg) |
| | Product | Type | Air Delivery (m3/min) | Discharge pressure (MPa) | Overall width (mm) | Overall depth (mm) | Overall height (mm) | Weight (kg) |
| | SMAD37PD-52/62 | Rotating screw type, 2-stage compressed unlubricated type | 5.3 | 0.7 | 2,250 | 1,250 | 1,740 (1,854 including suspension bracket) | 1,490 (1,430) |
| | SMAD55PD-5A/6A | Rotating screw type, 2-stage compressed unlubricated type | 8.5 | 0.7 | 2,650 | 1,250 | 1,740 | 1,630 (1,530) |
| | SMAD75PD-52/62 | Rotating screw type, 2-stage compressed unlubricated type | 11.7 | 0.7 | 2,900 | 1,505 (1,616 including suspension bracket) | 1,950 (2,111 including suspension bracket) | 2,580 (2,470) |
-Air Cooled (SAD Series)-
| | Product | Type | Air Delivery (m3/min) | Discharge pressure (MPa) | Overall width (mm) | Overall depth (mm) | Overall height (mm) | Weight (kg) |
| --- | --- | --- | --- | --- | --- | --- | --- | --- |
| | SAD37PD-52/62 | Rotating screw type, 2-stage compressed unlubricated type | 5.3 | 0.7 | 2,020 | 980 | 1,500 | 1,160 (1,100) |
-Water Cooled (SWD Series)-
| | Product | Type | Air Delivery (m3/min) | Discharge pressure (MPa) | Overall width (mm) | Overall depth (mm) | Overall height (mm) | Weight (kg) |
| --- | --- | --- | --- | --- | --- | --- | --- | --- |
| | Product | Type | Air Delivery (m3/min) | Discharge pressure (MPa) | Overall width (mm) | Overall depth (mm) | Overall height (mm) | Weight (kg) |
| | Product | Type | Air Delivery (m3/min) | Discharge pressure (MPa) | Overall width (mm) | Overall depth (mm) | Overall height (mm) | Weight (kg) |
| | Product | Type | Air Delivery (m3/min) | Discharge pressure (MPa) | Overall width (mm) | Overall depth (mm) | Overall height (mm) | Weight (kg) |
| | Product | Type | Air Delivery (m3/min) | Discharge pressure (MPa) | Overall width (mm) | Overall depth (mm) | Overall height (mm) | Weight (kg) |
| | Product | Type | Air Delivery (m3/min) | Discharge pressure (MPa) | Overall width (mm) | Overall depth (mm) | Overall height (mm) | Weight (kg) |
| | SWD37PD -52/62 | Rotating screw type, 2-stage compressed unlubricated type | 5.3 | 0.7 | 2,020 | 980 | 1,500 | 1,190 (1,140) |
| | SWD75PD -52/62 | Rotating screw type, 2-stage compressed unlubricated type | 12.8 | 0.7 | 2,525 | 1,220 | 1,500 | 1,990 (1,860) |
| | SWD90PD -52/62 | Rotating screw type, 2-stage compressed unlubricated type | 12.7 | 0.95 | 2,525 | 1,220 | 1,500 | 2,200 (2,070) |
| | SWD120P -51/61 | Rotating screw type, 2-stage compressed unlubricated type | 19.5 [16.0] | 0.69 [0.88] | 2,850 | 1,630 | 1,700 | 3,450 |
| | SWD140P -51/61 | Rotating screw type, 2-stage compressed unlubricated type | 22.5 [19.5] | 0.69 [0.88] | 2,850 | 1,630 | 1,700 | 3,500 |
| | SWD160P -51/61 | Rotating screw type, 2-stage compressed unlubricated type | 26.0 [23.0] | 0.69 [0.88] | 2,850 | 1,630 | 1,700 | 3,550 |